Ironweed
(inspired by William Kennedy's novel)
All Saints retire leaving
the graveyard to dead souls
a moss-green child opens his box
to confessions
The right-hand thief
rattled by cough and bottle
maudlin: Newton invented gravity
to drop my baby son on his head
His accoutrements
coal smoke, an ashwood shillelagh
ice cobbles loose and slippery as old teeth
He kills again to save his pal
and loses. Fugitive again
he runs to dreams
of warmth and home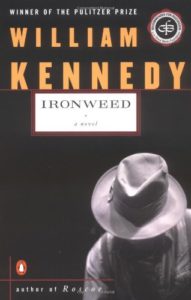 After a rocky road to publication, William Kennedy's novel Ironweed got the 1984 Pulitzer Prize and National Book Critics Circle Award. Though it's the third book in Kennedy's Albany Cycle, Ironweed reads strong and splendid on its own.
Francis Phelan is a down and out drunk, a tramp who makes a few bucks digging graves. A has-been ballplayer, he spent his prowess to pitch a rock that killed a man and to run from his family after accidentally dropping his infant son. His team's a bunch of bums.
A rundown Irish hero, the baseball bat his shillelagh, a mad, stumbling demi-god with a corpse-gnawing dog at his heels, he can't stop fighting and running no matter how futile fight or flight might be.
Now he's run back to Albany. Here lives his loving wife who never blamed him for their son's death. Here two living children wrote him letters filled with hope for his return. Here stands a house warm and filled with the smell of regular meals, hot and delicious, breakfast lunch and dinner. He's even stopped drinking, at least for a couple of days. He's close but hasn't yet touched home.
He visits the graveyard that holds his mother and his father, his kin, his infant son, his first lover, a fellow from his baseball team. It's Halloween, when the defunct take on a certain substance. The power of his love and remorse is enough to raise the dead. Emotional graves undig themselves. His sodden mind judges himself.
Maybe he goes home at last; some  believe he does. I couldn't trust this redemption to be anything more or less than the intensity of his yearning and the confused flow of time in a drink-damaged brain — but who can say? Maybe redemption is always and only what we believe.