At Oakwood Cemetery in Richmond, I had the fortune to meet F. Lee Hart, III, of the Sons of Confederate Veterans. Mr. Hart shared a moving story of undying friendship in John Bell Hood's "Texas Brigade."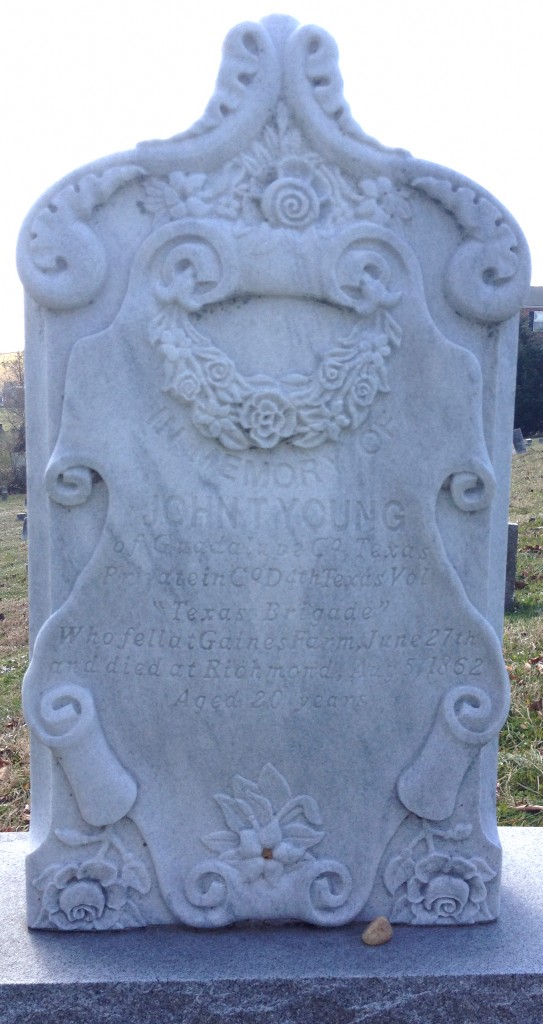 Buddies John T. Young and Nelson May hazarded their fortunes together in Company D, 4th Texas Volunteers. Far from home, in Virginia, "it was the Battle of Gaines Mill, June 27, 1862, that forged Company D into a solid fighting unit." But the battle separated the two loyal friends.
As the Fourth Texas formed for roll call the next morning, Hood rode up to his old command. "Is this the 4th Texas?," he asked. "This is all that remains," was the reply. Hood turned his horse in a vain attempt to hide his tears…. Companies C, D, F, and H lost over 60% of their men.
Wounded in action, John would later die of infection at Chimborazo Hospital, Richmond.
In conveying the sad news to his friend's family, Nelson vowed to erect a memorial–and he did, amidst the challenges of the embattled city. An ornate marble monument stands on John's grave at Oakwood: "In Memory of John T. Young / of Guadalupe Co. Texas / Private in Co D 4th Texas Vol / "Texas Brigade" / Who fell at Gaines Mill Farm, June 27th / and died at Richmond, August 5, 1862."
Nelson May fought on with the Texas 4th, all the way to Gettysburg. He died July 2, 1863, in the assault on "Devil's Den." His body lies in an unknown grave.
Sources: History of Seguin / An Illustrated History of the Fourth Texas Infantry / F. Lee Hart, III, SCV