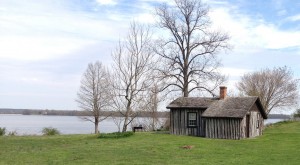 Grant's cabin at City Point: it is seriously small, leaving no doubt of Mr. and Mrs. Grant's genuine love and physical affection for each other. Grant let Rufus Ingalls, Quartermaster for the Army of the Potomac, take the big house, Dr. Eppes' Appomattox Manor.
To read up on Civil War underwear that wasn't "fun to wear," see my NYTimes article "Boxers, Briefs and Battles" | The New York Times
When untoward events, such as the August 1864 catastrophic explosion on the wharf, threatened to destroy Grant's famous game face, he could stalk outside the cabin and chomp down a cigar while enjoying the view.
Grant didn't see (and smell) what we see: a tranquil expanse of water and sky in shades of blue with occasional whiffs of chemical plants. Grant eyed a crowd of sails and steamships and breathed in with his cigar smoke  powerful doses of locomotive exhaust generated from coal or wood. And his cabin stood not in solitary splendor, but as one in a row of cabins leading away from the Eppes' house. A road ran in front of it. The dust, the dust.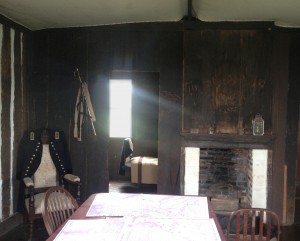 Mrs Julia Grant must have been a good sport. Imagine the cabin's tiny front room crammed with men, cigar smoke, muddy boots, and —with Grant's aide Rawlins around — plenty of cussin'. The table is strewn with (reproductions of) maps.
The stairway is where I pretended to be General Butler hauling my heavy-set self up from the wharf, clad in a tight wool blue-coat on a fine August day in Virginia, saber bumping my leg at each of the over one-hundred steps. On arrival my cardiovascular system would be further taxed by a cigar and orders from "Unconditional Surrender" Grant that, as punishment for fumbling Petersburg away, I would be put to the siege of that city. (This is truly creative. I have NO resemblance to General Butler, and the stairs from the wharf were strict, steep, and straight up the bluff: none of today's comfortable landings and poetic meanderings. Seriously, while Butler did fumble Pburg away and was involved in the siege, he made his clanking ascents, as described by Perrett, to talk about Fort Fisher.)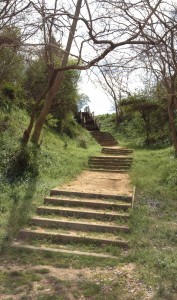 Library of Congress photos of Grant's City Point / NPS Grant's City Point / Ulysses S. Grant: Soldier and President, by Geoffrey Perrett (goodreads)