It's a sad day for March 25. Today is the 260th anniversary of today losing status as New Year's Day.
Beginning in 1752, New Year's Day for Great Britain and her colonies was moved from March 25 to January 1, as the calendar shifted from Julian to Gregorian. To adjust further, September 3 through 13 were skipped over (eliminated) in the 1752 calendar.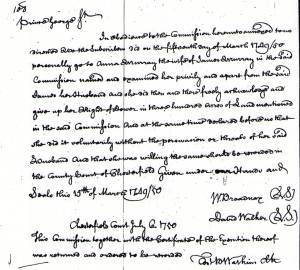 Theoretically, there was no need to double-date, but a cautious Virginian clerk thought otherwise. An entry in book 1, page 100 in the Chesterfield County's deeds records is double-dated (with flair): March 1749/50.
If the shift took place in 1752, why a double-date in 1750? The original document was drawn up in 1749/50 and recorded after 1752 at the courthouse. An appended entry dated July 6, 1750 is not double dated.
TEXT of the document (question marks indicate words I could not read; please comment if you can fill them in):
In obedience to the Commission hereunto annexed (?) directed to the Subscriber did on the fifteenth day of March 1749/50 personally go to Anna Murray the wife of James Murray in the said Commission asked(?) and examined her privily and apart from the said James her husband and she did then and there freely acknowledge and give up her Right of Dower in three hundred acres of Land mentioned in the Commission and at the same time declared before us that she did it voluntarily without the persuasion or threats of her said husband and that she was willing (?) to be recorded in the County Court of Chesterfield. Given under our Hands and Seals this 15th of March 1749/50.

W. Broadnax (S.S.) (S.S. indicates "signed and sealed")

David Walker (S.S.)

"This Commission together with the Certificate of the Execution thereof was returned and ordered to be recorded."

(?) Watkins
PS I was actually searching for some specific late-19th-century granite quarry records, but curiosity, the bane of focus and research, led me to see if any fanfare accompanied the first non-colonial entries. There was no fanfare. But I did find the double-date. And the quarry records.
Information on "The 1751 Act for Regulating the Commencement of the Year; and for Correcting the Calendar now in Use" from Mark M. Smith's article, "Culture, Commerce, and Calendar Reform in Colonial America." William and Mary Quarterly (Oct 1998) PDF via NewGeorgiaGazette.org