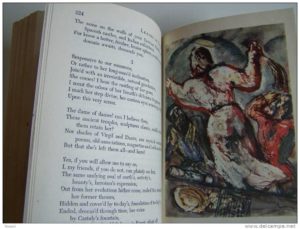 The Leaves of Grass book Marilyn Monroe reads in the photo is a 1944 reissue of a 1921 edition published by Modern Library, New York, and illustrated by Boardman Robinson.
Today, Robinson would be called a resistance artist. Born in Canada in 1876, Robinson moved to the U.S. in the 1890s, where he worked as a journalistic illustrator and cartoonist. Like Walt, his political convictions (in his case, socialist) created friction with his employers and, unlike Walt, with the US government.
After the US entered WWI in 1917, a magazine Robinson cartooned for, The Masses, lost its mailing privileges for refusing to change its view that the war "had been caused by the imperialist competitive system and that the USA should remain neutral." Robinson's cartoons and the works of other contributors were considered a violation of the Espionage Act, which made it "an offence to publish material that undermined the war effort." The artists and writers were brought to trial. Two trials, to be exact. The first ended with a hung jury. The second acquitted the artists and writers. Meanwhile the War ended and the case was dropped.
Ironically, about 20 years later, Robinson would paint the murals "Great Events and Figures of the Law" at the Department of Justice building in Washington, DC. He painted murals at other sites as well, including the Rockefeller Center, NYC. He taught at the Art Students League in NYC, which had "a reputation for progressive teaching methods and radical politics," fostering The Masses and other Marxist journals. From 1936 until his death in 1952, Robinson headed the art school at the Colorado Springs Fine Arts Center.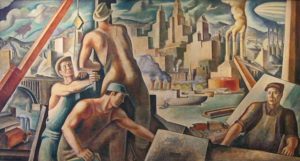 P.S. I wonder what poem Marilyn was reading when the photo was taken.
SOURCES: Bio of Robinson. The Masses. Spartacus-educational.com | Paglia, Michael. "The Colorado Springs Fine Arts Center celebrates its modern history." West Word | Robinson Murals, Department of Justice info | page spread from LOG delcampe.net