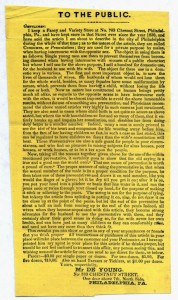 A late nineteenth century advertisement for condoms reveals that safe sex and contraception were considered as important then as they are now. 
A flyer advertising condoms ("Condumns or Preventatives") spells out some sexual norms of the Civil War era.
First listed use of product is to protect "single young men" from contracting STD from "women of a public character."
The phrase "women of a public character" is presumably a euphemism for sex workers
Next advocated use of contraception (though the flyer calls it "the first and most important object") is "for the husband to use with his wife." The underlying assumption is that childbirth itself and having too many children is hazardous to a woman's health, therefore a man who loves his wife should use contraception. The sentimental wording is very late Victorian (post Civil War) America: "Indeed many a man is sorely grieved to see the idol of his heart and companion for life wasting away before him."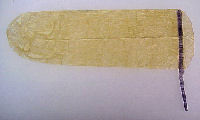 Some of the wording implies that chastity is unnatural: "Now as nature has constructed us human beings pretty much all alike as regards to the opposite sexes…."
The end of the flyer advertises to "Yarners or Ticklers." I get what today's "French Tickler" is, but it's hard to imagine something similar made of goat or sheep skin, as are Mr. De Young's condoms. So… what are they?