Stuart Connell Nottingham relates in prose and poetry the beautiful story of a woman who served "in a small way in four wars." Thank you, Stu, for contributing to Leaves of Grass.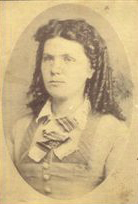 Charlotte Anderson Smith, my great-grandmother, was born February 12, 1851, in Philadelphia, Pennsylvania. She told me about fixing sandwiches for and talking with Union soldiers camping near her home in 1863. The following poem retells her experience.
During the Spanish American War Charlotte and her husband, Frederick Gildner, lived in Newport News, Virginia. Troops bound for Cuba were bivouacked across the road. When it rained she sheltered some of the troops on her porch and fixed sandwiches for them.
In 1916 troops bound for France were again assembled across from her home. Again Charlotte fixed sandwiches for them and listened to their fears.
In 1943 during the Second World War Charlotte lived with my family in Norfolk. One of her grandnephews was stationed at the Norfolk Navy base. Walter spent weekends with Charlotte and our family when his ship was in port.
Charlotte Anderson Smith Gildner was a remarkable woman, serving in a small way in four wars. She died in 1946 at age 95 and is buried back home in Philadelphia.
Charlotte Anderson Smith
(Philadelphia April 1863)
Charlotte is just growing into girlhood
when the Union  soldiers
camp in the meadow
next to her house.
They are as green as the April grass,
scared and lonely
as they conjure up battles to come,
think about how they will
fare when faced with the enemy.
Charlotte fixes them sandwiches
and listens to their fears.
She stands in for mothers,
sisters and sweethearts.
One boy from Vermont,
thin and shaking as with ague,
fixes pale blue eyes on Charlotte,
asks her to write to him,
asks her to be his special girl.
He is the first of many.