"…So important is an elegant, easy handwriting…that the aspirant for a position in a counting-room or office cannot hope for success therein without it…." –  Gaskell's Compendium of Forms, 1883
In honor of Mary Robinette Kowal's  Month of Letters Challenge (which I have not come close to meeting), a few thoughts on ye olde handwriting.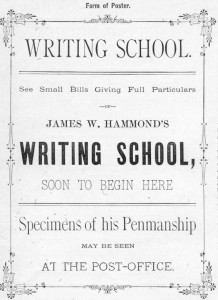 Penmanship used to be as important as clothes in making the lady or gentleman. Professor Gaskell even finds in it a point of patriotism: "Americans may well take pride, not only in their progress in other things, but in the fact that no other country in the world has so many fine penmen and good rapid writers as their own."
Indeed, handwriting could make or break a career:  "'Apply in your own handwriting' is the line which strikes the poor writer most forcibly when answering advertisements for a 'position.'"
The king of nineteenth-century penmanship was Platt Rogers Spencer (1800-1864), an itinerate handwriting teacher of northeastern Ohio. "His arrival in a village," Gaskell says, "was heralded as the event of the year." The flowing, somewhat angular, and ergonomic "Spencerian" style, which supplanted the more rounded quill-time style, is pre-figured decades before Spencer was born.

However, Spencer found a way to teach it, in the classroom and in books, for as Gaskell says, "penmen, unlike poets, are not born such, but made." Gaskell extolls Spencer nearly as one would a saint: "Spencer was an earnest, faithful teacher, a true friend, a chirographic genius…."
Although Gaskell emphasizes the practical aspects of "elegant, easy handwriting," he also appreciates the artistry of the pen with samples of  "off-hand flourishing" and the declaration that "the essentials of good writing are Legibility, Rapidity, and Beauty."
For more on handwriting, rare books on calligraphy (including
Gaskell's Compendium
), samples and all kinds of handwriting goodies, check out
IAMPETH
, the International Association of Master Penmen, Engrossers and Teachers of Handwriting. Declaration of Independence:
LOC
sonofthesouth.net