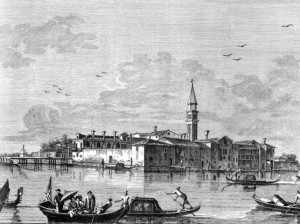 Abandoned to water and sky and what earth the roots of the scrubby trees and grass can hold, abandoned islands dot the lagoon of Venice. San Spirito, now extinct, once testified to the friendship of two powerful, early-Renaissance men: Jacopo Marcello (1413-1484), a Venetian nobleman and military leader, and Francesco Sforza (1401-1466), a condottiere (mercenary commander).
When Venice's enemies hired Francesco Sforza, he fought against Jacopo Marcello. When the Serene Republic bought Francesco's prowess, the two men were brothers-in-arms. Eventually, Francesco rose to rule Milan from 1450 to 1466. (Francesco and his wife Bianca Maria Visconti also commissioned one of the earliest extant tarot decks.) Throughout all, Francesco and Jacopo remained friends.
Marcello's tomb once lay in the church San Cristoforo della Pace, on San Spirito. Francesco Sforza was memorialized with a tablet in the same church for his role in the 1454 Peace of Lodi, which brought four decades of peace to the Italian peninsula, after many decades of incessant warfare.
The church is gone, its precious artworks and testimonies scattered. Marcello's monument survives at Santa Maria Gloriosa dei Frari. San Spirito island itself is sunk. All were razed by order of Napoleon, to join the island of San Cristoforo to the cemetary island of San Michele.
Inspired by a true story, The Bones You Have Cast Down, by Jean Huets, will transport you to a medieval village and a lush Renaissance court, to long ago times not unlike our own, when the keepers of faith conspired against the faithful, and the rich and powerful embraced war and corruption even while fostering works of artistic brilliance revered to this day.
"Enchanting and richly historical, as well as dazzling and dark, heart-wrenching and intoxicating." — Stuart R. Kaplan || Amazon/Kindle | INDIEBOUND | iTunes | B&N |
On Jacopo Marcello: Margaret L. King, The Death of the Child Valerio Marcello
. Picture from ABANDONED ISLANDS OF THE VENETIAN LAGOON by Giorgio and Maurizio Crovato, San Marco Press