(See also the earlier post Nineteenth-century underwear (men's). )
"I having lost my horse on the 4th, with all my clothes, and feeling rather lively from life inside my clothes, concluded to examine the wounded horse, and was rewarded by finding a clean full suit of underwear. I stripped on the battle field, and with thankful heart put it on, the first change I had in six weeks." Quote from Ron Coddington's Faces of the Civil War.)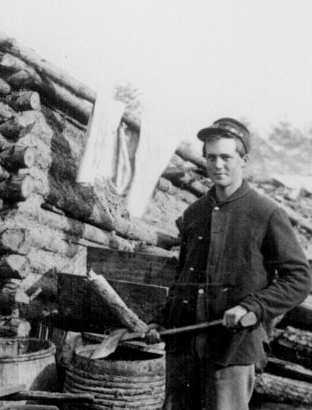 (Drum roll please) I believe men's undies hang from the log behind the guy chopping wood in this pic, featured on Phillip M. Bryant's blog. The picture as shown here is cropped to highlight the drawers; the whole photo has many other interesting elements, including a "corduroy" road.
Endearing advice, from a mom to her son, Brig. Gen. Thomas Lanier Clingman (from Francis Cassteven's The Civil War and Yadkin County):
I can make two pair out of the new flannel and I think get two more by piecing up the old ones, which we will do as soon as we can. I am certain that your flannel is injured by washing. It should not be put in very hot water or boiled at all, and [washed in] moderately warm water with soap and rinsed in warm soap suds, which will keep it soft and free from shrinking. At least, you can direct your washer to do so.
Probably not an option for enlisted men. (TL Clingman was about fifty when his mom told him how to wash his underwear. He made it through the War.)